En livsvidenskab
Denne traditionelle indiske livsvidenskab, vinder frem i Danmark, hvor det er blevet moderne at bruge Ayurvedisk behandling. Danmark har for nylig fået øjnene op for Ayurveda, en filosofi, hvor formålet er at kende sin kropstype og opnå fysisk og mental balance gennem kost og forskellige massageformer.
Hvor vestens medicin fokuserer på behandling af symptomer, vil fokus fra et Ayurvedisk perspektiv være forebyggelse – og hvis men bliver syg er fokus på at eliminere den bagvedliggende årsag.
Hvad er Ayurveda / Ayurvedisk behandling?
Udtrykket Ayurveda kombinerer 2 Sanskrit-ord "ayur" som betyder liv og "veda" der betyder viden.
Ayurveda er en alternativ behandlingsform der omhandler viden om livet og det at forstå sig selv, Det er en tusindeår gammel og enorm omfattende holistisk viden med oprindelse i Indien, der omfatter alt vedrørende vores sundhed og velvære. Det kan være fra kost og øvelser og til hvordan vi lever.
I Ayurvedisk behandling sker helbredelse og sundhedsfremme gennem brug af naturlægemidler, specielle diæter og andre unikke sundhedsfremmende praksisser som massage og meditation.
Det handler grundlæggende om at skabe balance i både krop og sind.
5000 år gammelt behandlingssystem
Ayurvedisk medicin praktiseres i Indien som et udbredt behandlingssystem og er en af de ældste systemer for helbredelse i verden, der opstod for over 5000 år siden.
I Indien ordinere Ayurvediske læger individuelle behandlinger, herunder urtemikstur og kost, motion og livsstils anbefalinger. I Indien bruger store dele af befolkningen udelukkende Ayurveda eller kombinerer det med konventionel vestlig medicin, og det praktiseres i varierende former i sydøst Asien.
Oprindeligt var det den ayurvediske læges ansvar, at fortælle sine patienter, hvad de skulle gøre for at bevare sundheden.
I traditionel vestlig lægekunst går vi først til læge, når vi er syge – i den ayurvediske tradition får man mindst et årligt check og har naturligvis selv ansvaret for at gøre hvad lægen anbefaler.
En Ayurvedisk læge kan afhjælpe problematikker – blandt andet med urter, massager, detox mm. 
Forebyggelse praktiseres via enkle leveregler om bl.a. kost, motion og meditation. Det er en tilttalende metode, der anbefaler en bevidst holistisk livsstil, for at komme i balance i krop og sind.
Hvordan foregår en Ayurvedisk behandling?
Behandlingen af en lidelse sker både fysisk, medicinsk og psykisk med bevidstheden om de selvdestruktive tanker, der har skabt lidelsen i det fysiske krop.
Efter en individuel diagnose kan urte-, plante- og mineralprodukter benyttes i Ayurvedisk behandling. Urtepræparaterne virker ved at korrigere kroppens funktioner og biorytmer. Sammensætning af præparater koncentrerer sig om styrkelse af udrensningsorganerne: lever/galde, nyre/blære, hjerte/blod og mave/tarm. Når disse organer ikke fungerer optimalt, bliver de følsomme for miljøforurening, medicinrester, sprøjtegifte og tilsætningsstoffer i maden.

Ayurveda gør brug af forskellige urtepræparater for at rette op på ubalancer.
Derudover er der flere forskellige Ayurvediske massager.
Der bruges varm olie som vælges ud fra din kropstype. Olien masseres ind i kroppen eller løber i en stille strøm ned over panden for total afslappelse. Disse massager handler ligesom alt andet i Ayurveda om at skabe balance i både kroppen og sindet. Efter massagen vil der typisk være mulighed for at komme i en dampkasse (hvor hovedet er frit). Dampen sørger for at giftstoffer, ubalance og disharmoni svedes ud af kroppen.
Gennem behandling og ændring af livsstil kan man skabe harmoni og balance med støtte fra kostafstemning, udrensning, brug af urtemedicin, meditation og massage.
Lev ud fra din kropstype
Der er stor hjælp at hente i Ayurvedisk behandling, når du vil vide, hvilken mad og hvilke aktiviteter, som passer bedst til dig og det handler først og fremmest om at lytte til kroppens behov og de signaler, den udsender.
Vi kan vende opmærksomheden indad – evt. i meditation – og kontakte vores intelligent bevidsthed og finde svar på vores spørgsmål, men den Ayurvediske viden kan være en stor hjælp, når du vil lære kroppens behov bedre at kende.
Forskrifterne sige at man skal leve efter den (eller de) kropstyper/elementer (doshaér) man tilhører – både hvad angår kost og fysisk og mental udfoldelse.
Først og fremmest kan kosten inddeles i tre kategorier, den livsfremmende, livshæmmende og den udrensende kost, og det handler om at undgå den livshæmmende. Efter at have udrenset kroppen skal man tilstræbe at leve efter den livsfremmende kost.
Der er en vitalitet i alt, hvad du spiser og giver videre til kroppen. Jo mere friskt noget er des mere livgivende er det for kroppen. Dåsemad derimod er livshæmmende, fordi det har været dødt i lang tid og er blevet presset sammen i mørke. Livet optages af kroppen.
Når du har udrenset din krop fysisk, tages skridtet videre og du udrenser sindet ved hjælp af blandt andet urter, æteriske olier og massagebehandlinger.
De 3 doshaér
I Ayurvedisk behandling tales der om doshaer, som er en form for kropstype- eller livsenergier.
I følge denne videnskab er den vigtigste faktor for sundhed, at vi synkroniserer os med naturen ved at holde naturen i os selv i balance.
Det gør vi ved at kende til de tre doshaer, som er en form for kropstype- eller livsenergi.
De 3 doshaer er: vata, pitta og kapha, og disse energier findes i alt levende.
Når vi bliver klogere på vores egen særlige kropstype/livsenergi, kan vi balancere den gennem Ayurvedisk viden bl.a. om de 5 elementer: jord, vand, luft, ild og æter og ifølge Ayurveda er det afgørende at disse elementer er i balance, for at opnå et langt, sundt og lykkeligt liv, for du indeholder dem alle.
De fleste menneskers kropstype er en kombination af mindst to doshaer.
For eksempel har mennesker, som er "Pitta Kapha" tendenser fra både Pitta dosha og Kapha dosha, med Pitta som den dominerende. Ved at forstå vores naturlige kvaliteter, kan vi bedre gøre det, der er brug for, for at komme i – eller holde os i – balance.
Vata
Vata består af luft og æter og er forbundet til hørelsen og følelsen.
Vata styrer al bevægelse i kroppen, vores nervesystem og mentale liv.
Vata er flyvsk og bevægelig samt let, hurtig, kold og tør.
Alle idéer og al bevægelse kommer herfra. Nye projekter, de digitale medier, transport, kommunikation, blæst, tør kulde og kroppens bevægelighed er alle vata-relaterede. 
Alt levende indeholder noget vata, men nogle ting og mennesker indeholder meget.
Dem der er særlig præget af vata, bevæger sig, taler og tænker hurtigt. De er kreative, innovative og omstillingsparate. Deres kroppe er ofte kolde, slanke og tørre – både i  hud og led og kan se skrøbelige ud og er i risiko for at overanstrenge sig.
De oplever hovedsagligt verden gennem høre og følesansen og kan være særlig følsom overfor lyd og berøring. Deres sind er omskifteligt, men når de er i balance, er de entusiastiske og begejstrede.
De har masser af tanker og idéer og en livlig fantasi. Skifter mening hurtigt og kan derfor virke ubeslutsom. Er både let at begejstre og let at bekymre. Data mennesker lærer hurtigt men glemmer også hurtigt.
Efterår og vinter er vata-tid. Træernes blade visner i det blæsende efterår og naturen tørrer ind. Vinterens hårde frostgrader giver også ekstra tørhed og forøger vata.
Gode råd hvis du er vata

Spis på samme tidspunkter hver dag, og sørg for at spise nok.
Varm mad og drikke er bedst for dig.
Undgå for mange omskiftelser, for eksempel meget rejseraktivitet.
Drik rigeligt med vand.
Prioriter mad, der er sødt, surt og salt, og spis mindre af det bitre stærke.
Undgå store mængder råkost og bønner.
Sørg for at få godt med hvile og ro.
Hold dig varm på hele kroppen.
Pitta
Pitta består af vand og især ild og er forbundet til synet og derfor oplever de oftest verden gennem denne sans. Pitta styrer fordøjelse og stofskifte og har stærkt indvirkning på temperament.
Pitta er varm, fyrig, skarp, intens, hurtig og gennemtrængende.
Tropisk klima, feber, udslæt, lederskab, fokuseret handling, konkurrence, præstation, stærkt sexdrive og kroppens forbrænding og fordøjelse er domineret af pitta dosha.
Alt levende næres af denne ild, men noget og nogen har mere af den.
Pitta-prægede mennesker er arbejdsomme og og ambitiøse og er typisk varme, intense og skarpe. De har let til overophedning. De handler og tager beslutninger og giver som regel ikke op, før de er i mål med deres projekt. De har et skarpt intellekt, diskuterer gerne for at få ret, viljestærke, målrettede, handlekraftig og lidt perfektionistisk.
Når de er i balance, er de fremragende ledere. Deres fordøjelse er stærk, kroppen er medium bygget og huden er generelt varm og olieret.
Pitta mennesker ser detaljer, som ingen andre ser og er særlig følsom overfor synsindtryk.
De kan føle, de spilder tiden, når de sover, da de ikke kan handle og
sommeren er pittas årstid med sol og varme.
Gode råd hvis du er pitta

Spis sødt og bittert som for eksempel søde frugter og grønne bladgrøntsager.
Spis mild og kølende mad som kokos, ris og spelt.
Undgå stærke krydderier, surmælksprodukter, ost og salt.
Sørg for at få masser af hvile.
Hold igen med solbadning og sauna.
Gå ture ved vandet eller dyrk motion som svømning, sejlads og skisport.
Kapha
Kapha består af elementerne jord og vand og er forbindet til smags- og lugtesansen, som de oplever verden igennem. De kan være ekstra følsomme overfor lugte og smage.
Kapha styrer vores struktur og væskebalance – vores krop, muskler og knogler. Ingen af os var til i fysisk form, hvis det ikke var for Kapha, der er tung, fugtig, kold langsom, sød, vedholdende og grundig. Den forbinder os med jorden og alt, der har med fysisk tryghed og velvære at gøre. Et harmonisk familieliv, orden i økonomien, systematik, koldt, hjemmedyrkede grøntsager og tid i naturen vil være kapha-relateret. Kapha-mennesker er fast i sine beslutninger og skifter sjældent mening og er en lidt mere sjælden art i vores del af verden. De er generelt gavmilde, søde, loyale, tryghedssøgende, afslappede og accepterende. Deres kroppe er kraftigere bygget med chance for overvægt. De kan være langsomme om at komme i gang, men når maskinen først kører, er de særdeles udholdende. De lærer langsomt, men husker godt og deres sind vil for det meste være roligerere og mere afbalanceret end hos de andre doshaer.
Foråret er kaphas årstid. Når træerne trækker safterne ud i grenene efter vinterens hvile, bliver naturen mere frodig og fugtig, og derved øges kapha.
Gode råd hvis du er kapha

Spis altid let aftensmad.
Hold igen med søde sager, fedt og mælkeprodukter.
Varm mad og drikke er bedst for dig.
Spis let mad med vægt på stærkt og bittert.
Få mindst et kvarters motion hver dag, hvor du får pulsen op.
Sov ikke for meget.
Afbalancering af dosha
En Ayurvedisk behandler kan udfra din dosha, undersøgelse af din tunge og din puls stille diagnosen og hjælpe dig til at komme i balance igen.
Du vil typisk få tildelt 2 af de 3 kropstyper/elementer, med den ene som hovedelement. Vi har dog alle 3 elementer i os.
Det er vigtigt er at have en god balance imellem disse doshaér, og behandleren vil både afbalancerer energierne i organer, tanker og følelser, for at forhindre følelser i at ødelægge kroppen.
I den forbindelse skal man noterer sig, at vi alle er forskellige – derfor kan det, der er godt for den ene være knap så godt for den anden.
Kan det skade?
I Ayurvedisk medicin bruges en vifte af produkter og fremgangsmåder. Nogle af disse produkter indeholder urter, mineraler eller metaller — og de kan være skadelig, hvis de anvendes forkert eller uden vejledning fra en ekspert. For eksempel, kan nogle urter forårsage bivirkninger eller interagere med konventionelle lægemidler og mange materialer er ikke blevet undersøgt i kontrollerede kliniske forsøg.
Er ayurvedisk behandling effektiv?
Ayurveda og den ayurvediske behandling har været underlagt forskellige undersøgelser og studier, men som med mange andre alternative behandlingsformer, foreligger der ikke nok veldokumenterede forsøg til at bevise at metoderne virker.
Mange vil dog kune berette om stor nytte af Ayurveda, og alle kan have nytte af det, fordi formålet er at bevare sundheden i krop og sind. De, der er sunde, vil drage fordel af Ayurveda ved at blive stærkere og få mere energi, mens de, der er syge, vil være i stand til at komme tilbage til en sund tilstand på en naturlig måde.
Hvem kan tilbyde Ayurveda på Sydfyn?
I helhedsHUSET har vi en dygtig Ayurvedabehandler.
Iben Fischer, som du kan læse mere om ved at klikke på navnet.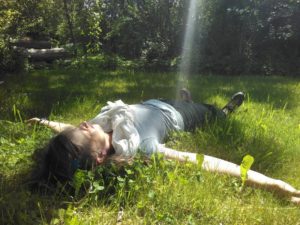 Det vil glæde mig at se dig til Ayurveda i helhedsHUSET på Tåsinge. Du kan læse mere om den dejlige massage her:
Smil fra Susanne
helhedsHUSET på Tåsinge, Vievej1, 5700 Svendborg
www.helheds-HUSET.dk